Breast Lift
---
Like other parts of her body, a woman's breasts are susceptible to changes that result from pregnancy, aging, and weight fluctuations. Over time, the breasts can lose volume and begin to sag, producing an undesirable appearance. Patients who undergo breast lift surgery can enjoy beautiful, natural-looking results that improve their silhouette. Dr. Puebla performs breast lift surgery that is individually tailored to each patient's needs. The objective of this procedure is to restore a woman's breasts to a perkier and more youthful aesthetic. During the initial consultation with Dr. Puebla, the details of each breast lift are thoroughly discussed.
Ideal Candidates for Breast Lift
The best candidates for breast lift surgery can relate to some or all of the following cosmetic concerns:
Deflated, sagging breasts
Downward-pointing nipples
Breast asymmetry
Breast Lift Options
Incision Techniques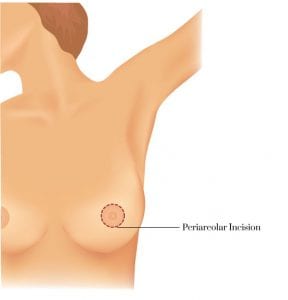 Periareolar incision:
Two concentric incisions are placed around each areola, through which a small amount of breast tissue is removed. Ideal candidates for this method have mild breast ptosis (sagging).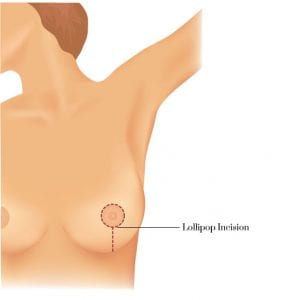 Lollipop incision:
An incision is placed around the areola and down the lower breast, through which a moderate amount of tissue is removed. The best candidates for this breast lift technique require mild-to-moderate correction.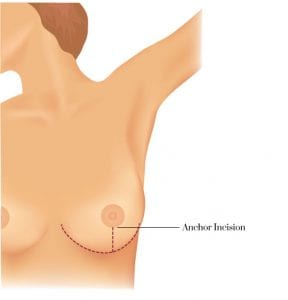 Anchor incision:
Incisions are created around the areolas, down the breast, and along the inframammary crease. This technique allows for extensive correction. This technique is appropriate for patients with severe breast ptosis who desire extensive correction.
Adjusting the Nipple-Areolar Complex
If the areolas are enlarged, they can be altered during any breast lift procedure. For more complex adjustment of the nipple-areolar complex, the modifications can only be made using the lollipop or anchor incisions.
---
Recovery
A patient's recovery from breast lift surgery varies depending on the extent of correction and which techniques were used. Bruising, swelling, and discomfort can be expected after surgery, but these side effects can be reduced by following the recommended aftercare directions. Dr. Puebla provides all of his patients with the compression bra that are necessary for optimal healing, and he prescribes pain medication so that the recovery period is as comfortable as possible. Patients are offered a one night stay at the hospital so that they may be observed overnight, minimizing the risk of postoperative complications. Breast lift patients must come in for a follow-up five to seven days after their procedure so that Dr. Puebla can evaluate how well the incisions have begun to heal.
Results
While some improvement may be noticeable immediately after surgery, it can take several months for the breasts to heal completely and display the final results. While the outcome can be long lasting, the breasts can change slightly over time. Wearing the correct bra and leading a healthy lifestyle can help breast lift patients preserve their results for years. Dr. Puebla recommends moderately sized implants for post-bariatric patients who desire breast lift surgery paired with augmentation, as using larger implants can result in short-lived results.
---
Revision Policy
Patients who undergo elective surgery can have a revision procedure in the future. No matter which cosmetic procedure you opt for, your body and face will continue to age naturally. If you have excess weight on your body, you may still experience fat deposits that need to be taken care of with additional liposuction treatments. Aging, sagging, scarring, and other changes are attributed mainly to genetics and your aftercare routine. Should you desire revision surgery one year after your initial procedure, necessary fees may be required for the hospital, surgical facility, lab work, and medical supplies or devices (i.e., breast or facial implants). These revision surgeries will be personalized per patient, and there will always be a discounted rate available for return patients. Only patients who follow the recommended postoperative protocol and attend all follow-up appointments will qualify for the revision policy and associated courtesies.